Speaking with Premium Times, the Nigerian Army spokesperson, Olajide Olaleye, blamed area boys for the attack. They denied the involvement of its men in the vandalism and burning of some BRT buses this morning at Palmgrove, Ikorodu road.
"It's not true that the soldiers destroyed buses or set any bus on fire. What happened was that a BRT bus knocked down a soldier and killed him. As usual in Lagos, area boys gathered and a few soldiers stopped at the scene as well. The GOC has dispatched military policemen to the scene to help restore law and order," Mr. Olaleye said.
6 BRT buses and 3 other cars were burnt after the soldier's rampage this morning. A female soldier pictured vandalizing a BRT bus.
See photos below.
They allegedly blocked one side of the ever-busy road, stopping any BRT buses plying the route, four of which were allegedly set ablaze.
The shed at the bus stop was also not spared as it was razed.
Some commuters and pedestrians, passing through the area alleged that they were manhandled by some irate soldiers, who equally barred journalists and itinerant photographers and social media enthusiasts from recording or taking pictures of the mayhem and that of the deceased.
A spokesman for the Army formation in Yaba, Lagos, Rightman Ogeh, however, denied that the soldiers from the unit burnt buses or harassed passersby or commuters.
Ogeh, who spoke to a radio station in Lagos on Friday, admitted that the soldiers from the unit were aggrieved that the man, who was knocked man, was allowed to die because no one took the initiative to rush him to any hospital.
He said, "A soldier, who was passing through the bus stop, saw the soldier and called the office because he could recognise him. By the time we got there, we realised that our colleague was inside the bus already dead.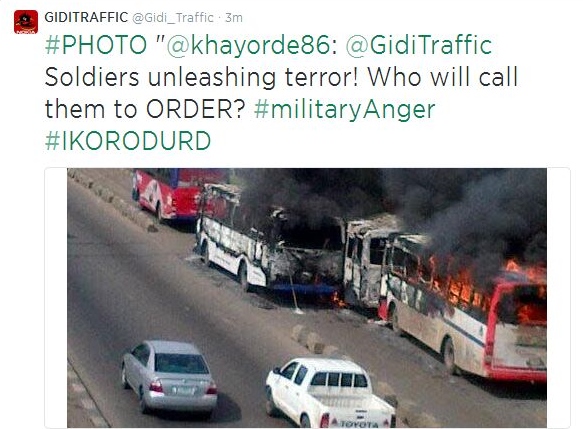 Ogeh denied that the soldiers burnt the busses, accusing some miscreants in the area of perpetrating the act.
"When things like this happen, you will hear different versions, but I can tell you that soldiers did not burn the busses. It is possible that some area boys carried out the act. No one was harassed by soldiers; we only stopped some people who were taking pictures and wanting to film the area," he added.
Photo: aproko247.com