VIDEO: JJC on D'banj & Donjazzy's Saga, Calls D'banj A Bad Seed
Nigezie Caught up with JJC of 419 squad on the saga between him and Dbanj and Don Jazzy. He went off on D'banj on how he taught him everything to be where he is today. He basically went off and said some secrets about him from the past based on the article that surfaced online yesterday. He calls him the Bad seed in the box, that caused everything.
Very Intense interview, i guess D'banj has crossed some path he shouldn't have. Watch the video below.
Full Interview
I started doing JJC and 419 squad which was a squad of people that was speaking and rapping in yoruba.along the way MP took a guy called D banj to my house and d banj
came as normal up and coming artist normally do,baba please your name is big,please help me,yeah and of course ,like the mugu,mumu button activated JJC,i introduced hum
to my band ,what can you do,he sang,i said thats not really good,the harmonica that you play is really good,lets work on that one and develop your style,along the way another guy called kas
brought don jazzy to my houseand don jazyy at that time was playng for solek as a piano player and Dbanj and don jazzy now was working with me.
the thing that upset me was the article said thatthey were working for four years and didnt get anywhere,you tell me whereelse you could be,i toook all of them to womad which is biggest african world
stage they could be,we were performing in every single show that there was possible,anything that was happening ,JJC and 419 was doing it,we were at the top of the game
and a lot of people can actually testify to that,what are you crying about,i didnt pay you to come and perform,You are nobody,nobody knew you,so would i pay you to come and perform
i was giving you an opportunity,giving you a platform to come and perform,so i dont understand that,
Number 2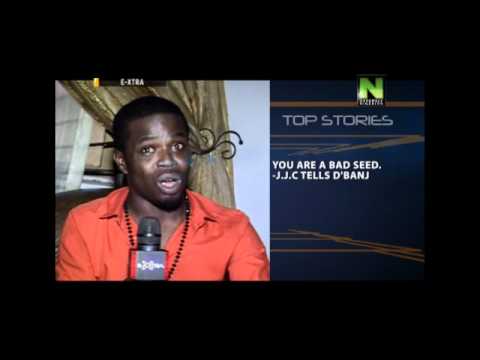 The article said something about how i cheated don jazzy,how come don jazzy didnt say that for himself,you tell me what incident i cheated him,i taught him how to
produce,which made him don jazzy that he is today,i use to pay him a thousand pounds everymonth in 2004 which was almost 250k for being a trainee,now i come back to nigeria to come and do awoo
and i see don jazzy ,d banj .Don jazzy was even talking to me, D'banj was carrying himself like some superstar,yes he has made something of himself and salute
to the music that don jazzy made,salute to the lyrics that don jazzy wrote cos i know from mobolowowon to all the way,na me and don jazzy write am,now the rest of the song that
follow, i am sure don jazzy wrote it and if na lie let me hear,even wande coal don tell me say na don jazzy and him dey work for the records and now you are mr d banj
koko koko,you think you are God,what did you call yourself, jesus of nigerian music
I paid them to learn how to become bette themself ,so that you can become someone big and then for you to turn around and be slandering my name?Ki lon she e now
You have the mouth to say it ,after you don eat my food,sleep in my bed,i even give you girl,you are the one that was the bad seed
Also check out Don Jazzy's Response via AscologyNews.com